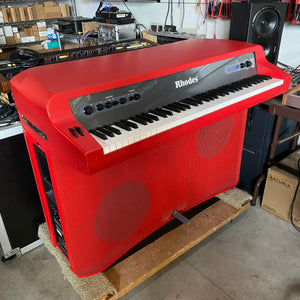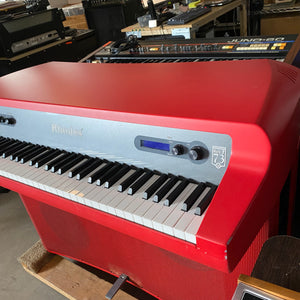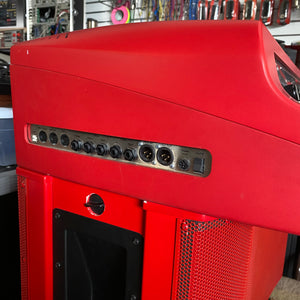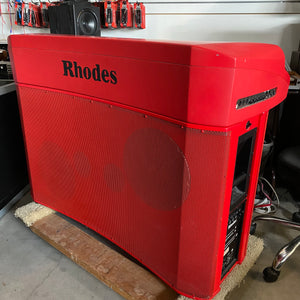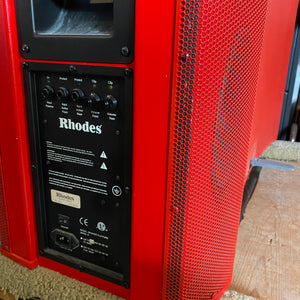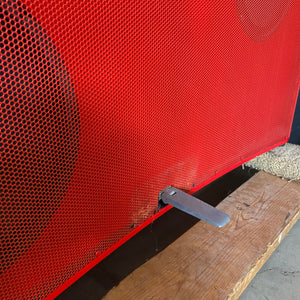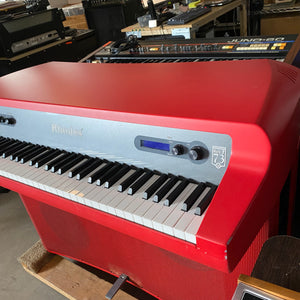 This Rhodes MK7 is fully functional and in excellent condition.  Includes power supply, custom flight case for the piano, and legs/sustain pedal for configuring as a stage model.
Own a Rhodes, and you own a piece of music history! The Rhodes Mark 7 Active MIDI 73 gives you that unmistakable tine-based sound because that's exactly what's happening inside this instrument. Unlike digital models that seek to replicate that sound, the Rhodes Mark 7 Active MIDI 73's sound is created by wooden keys moving hammers that hit tines. We could go into great detail about all the classic technology under the hood, but suffice it to say - the Rhodes Mark 7 Active MIDI 73 gives you vintage Rhodes sound from a brand-new, reliable instrument. And best of all, the MIDI version has a special tricks up its sleeve that you just couldn't do with the vintage counterpart.
On top of having regular stereo outputs (balanced over XLR and unbalanced over 1/4), the Rhodes Mark 7 Active MIDI 73 kicks things up a major notch with its MIDI I/O/T and USB capabilities. You can use the luxurious wooden keys to trigger your favorite virtual instruments for an unmistakably awesome experience. You can even create four zones (overlapping, if you want) for splits and layers. You've event got polyphonic aftertouch for your synths that support it. How's that for old-school Rhodes feel with a decidedly new-school twist?
Color: Gloss Red
73-key electro-mechanical piano
Features authentic tine-based sound generation
Balanced (XLR) and unbalanced (1/4") stereo outputs
USB connectivity
MIDI I/O/T ports
Modulation and pitch wheels
Polyphonic aftertouch
2x220 LCD
Supports channel adjustments, split zones, and velocity curves