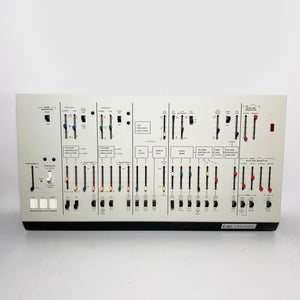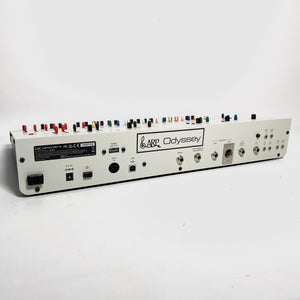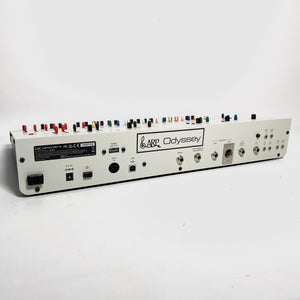 Korg
Korg ARP Odyssey Module
This Odyssey desktop module is fully functional and in excellent
Legendary sound that connects the past with the present. Reborn again as an analog synthesizer module.

Since its appearance in 1972, the ARP Odyssey has been loved by countless musicians as a classic analog synthesizer. Forty years later, in 2015, with the advisory assistance of David Friend, co-founder of the ARP Instruments company, KORG resurrected the ARP ODYSSEY with a complete reproduction of the ARP Odyssey's original circuitry. The ARP sound, which continues to be envied as an iconic analog synthesizer, was once again back in the hands of today's musicians. Now, KORG has further broadened the reach of the ARP ODYSSEY in today's world by releasing a new model.

The ARP ODYSSEY Module is a keyboard-less ARP ODYSSEY with the very same analog synthesis circuitry that completely reproduces the original. To fit perfectly in today's DAW-centric music production environments, we provide it in a more compact module form. The lineup includes two models, the white Rev1 and the black and orange Rev3, reproducing traditional styling in a cutting-edge tabletop body. The real ARP sound that transcends history is once again available to the world.

An ARP ODYSSEY module that emanates synthesis power from your tabletop

The ARP ODYSSEY Module is a tabletop analog synth module based on KORG's revived ARP ODYSSEY. In its compact, keyboard-less body, it contains the exact same circuitry as the original, making it even easier for you to obtain that rich analog sound that only a genuine ARP ODYSSEY can produce.

By adding the ARP ODYSSEY Module to their setup, DAW users can enhance their production environment with powerful analog sound that cannot be obtained from any plugin. You can also perform in conjunction with a sequencer such as the KORG SQ-1. If you're a player with a keyboard that you prefer, you can connect the ARP ODYSSEY Module via MIDI to your favorite keyboard and play it to your heart's content. In addition, the ARP ODYSSEY Module newly supports MIDI pitch bend.

Lineup includes the historical Rev1 and Rev3 designs

The ARP ODYSSEY Module lineup includes the best-known Rev3 design with its characteristic black panel and orange silk-screening, as well as the white-paneled Rev1 design that marks this instrument's historic beginning. The unique shape of the slider grips, their smooth operating feel, and the layout of the switches all perfectly reproduce the layout of the original despite the compact module design.

The body, on the other hand, has been redesigned for its new life in module form, featuring a sturdy steel chassis befitting the weighty sounds produced by this instrument throughout its forty-year history.