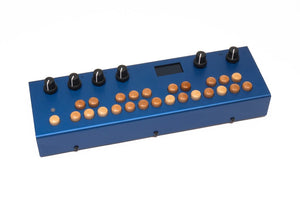 Critter & Guitari
Critter & Guitari Organelle
Flexible

At the heart of the Organelle's sound engine is a robust computer that runs patches. A patch allows the instrument to take on different forms. Onboard hardware for sound input and output and mappable knobs, keys and buttons enable patches to synthesize, sample, effect, and anything in between!

Expandable

The Organelle ships with a set of common default patches, and new patches may be loaded from a USB drive. Simply select patches from a continually-growing list, transfer them to a USB drive, reinsert it in the Organelle, and play!

Customizable

Don't see the exact patch you need? You can create it yourself! Patches may be created and/or edited directly on the device as well as on a personal computer. Plug in a keyboard, mouse and monitor and begin customizing. The Organelle runs patches created in the powerful computer music programming environment Pure Data (and may also be written in lower level languages too!).