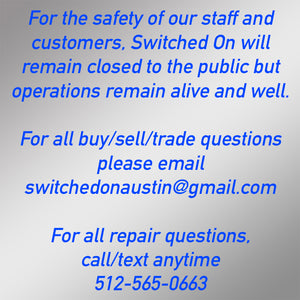 Switched On remains dedicated to serving Austin and the global electronic music community.  While we would love to welcome the public into our storefront, everyone's safety is more important.  
We are still facilitating buy and trade inquires on a case by case basis, so feel free to reach out & lets see what we can do!  
The repair department is still operating with a greater focus on vintage and analog studio equipment.  Our owner/repair manager John French is available anytime to discuss your needs at 512-565-0663.
Thank you all & stay safe!