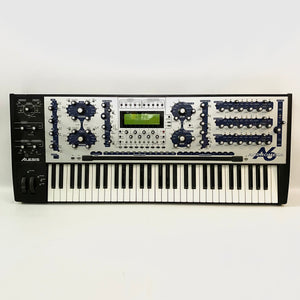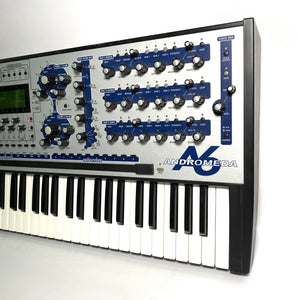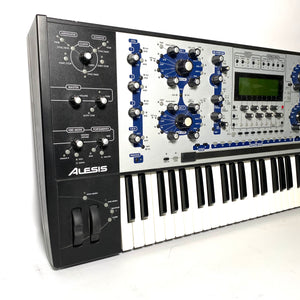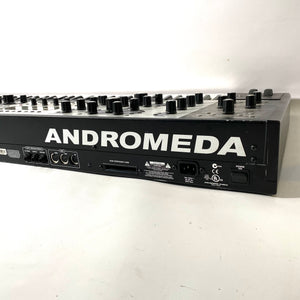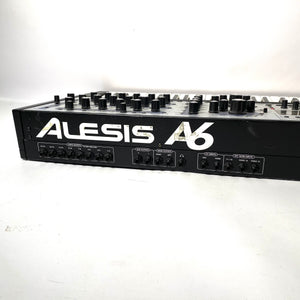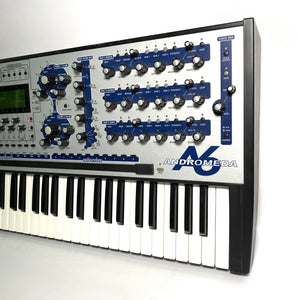 Alesis
Alesis A6 Andromeda
This A6 is fully functional and in great condition.
 From Alesis:

Real Analog Powerhouse

Andromeda's fully analog signal path is controlled by a high-speed Motorola Coldfire microprocessor, offering 16-voice polyphony with 16-part multitimbral capability. Andromeda features two analog oscillators per voice, with standard waveforms (available simultaneously), suboscillators, hard and soft sync, and more. It provides two analog filters per voice: these 2-pole (multimode) and 4-pole (lowpass) resonating filters are classically-derived designs, and offer you an astounding range of sonic variability.
Andromeda also provides external audio inputs that allow you to route any signal through its filters. Andromeda has three LFOs, each with six waveforms and many powerful features. It also has three 7-stage, 3-level envelopes capable of functions never before found in any analog synthesizer. An extensive mod matrix offers you an enormous freedom in configuring Andromeda's sonic firepower, adding to its monstrous capabilities.
In-Depth Control of Your Sound

Andromeda's 61-note synth-weighted keypad features velocity and aftertouch sensitivity, and its ribbon controlled offers multiple, assignable functions. A distinctive, futuristic front panel features 72 knobs and 114 buttons (the majority are single function), optimally arranged for rapid-fire tweaking and in-depth experimentation. Andromeda's large, backlit LCD display provides real-world values of parameters (time, frequency, BPM, etc.) and high-resolution graphics. No other synth has ever offered such a sophisticated, informative control panel for creating analog pyrotechnics."