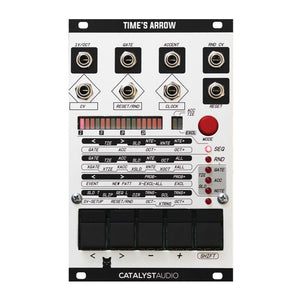 Catalyst Audio
Catalyst Audio Time's Arrow Sequencer
Time's Arrow, from Catalyst Audio, is a 16-step sequencer for Eurorack modular synthesizer systems. It features sixteen selectable scales, with every parameter accessible via its front panel buttons. Consequently, complex operations can easily be achieved with absolutely no need for menu diving. The module perpetrates all classic sequencer functions, including reset, slide, and transposition. Additionally, it features desired playback modes such as Forward, Backward, Pendulum, PingPong, Random, and a unique "Drunken Walk" setting.
Adjustable seq length from 1 - 16 steps
Internal quantizer with 16 selectable scales
Constant time (303 style) slide
Output voltages from 0 - 8v (8 oct range)
(Pre-quantizer)

Transpose input

Reset to last step
Forward, Backward, PingPong, Pendulum, Random, and ""Drunken Walk"" seqencer directions
Firmware optimized for extremely low jitter and tight timing.
Synchronized randomization (manual or CV triggered) of Notes, Accents, Ties, Gates, and Slides, Alt CV and Octave Offset. 
Independent probability settings of Notes, Accents, Ties, Gates, and Slides.
Independently remove any event on any step from randomization.
Sync/reset output
Random stepped CV output (0-5v)
Global transpose by semitones or octaves.
""Slip"" sequences forward or backward.